For the San Francisco Bay Area resident growing weary of the hustle and bustle of city life, The Sunburst Calistoga is a lively and freshly renovated destination providing a distinctly Calistogan experience at a great value. An alternative to the upscale, luxury Calistogan resorts and spas, guests of The Sunburst can enjoy the property's natural mineral pools and take advantage of the hotel's close proximity to mud baths, wineries, vineyards, restaurants and world-class hiking and mountain biking trails all set against the relaxed charm of Calistoga in Northern Napa Valley, a breezy 90-minute drive from San Francisco. Guests can currently save up to 30% on midweek rates.
Sunburst Mineral Pools – Experience Relaxation
Discovered and used by the region's Wappo American Indian tribe, the hot springs of Calistoga continue as a fixture for the community. Sunburst's guests benefit from Calistoga's famous hot spring mineral water in three on-site mineral pools heated to temperatures between 80 to 104 degrees. It is generally accepted by the Western and Eastern communities that soaking in these mineral waters, heated by the Earth's mantle, will help maintain wellness while revitalizing skin, calming nerves, detoxing your system and refreshing oxygen levels. Guests are invited to make unlimited use of these refreshing pools during their stay. Limited day passes are also available for non-hotel guests.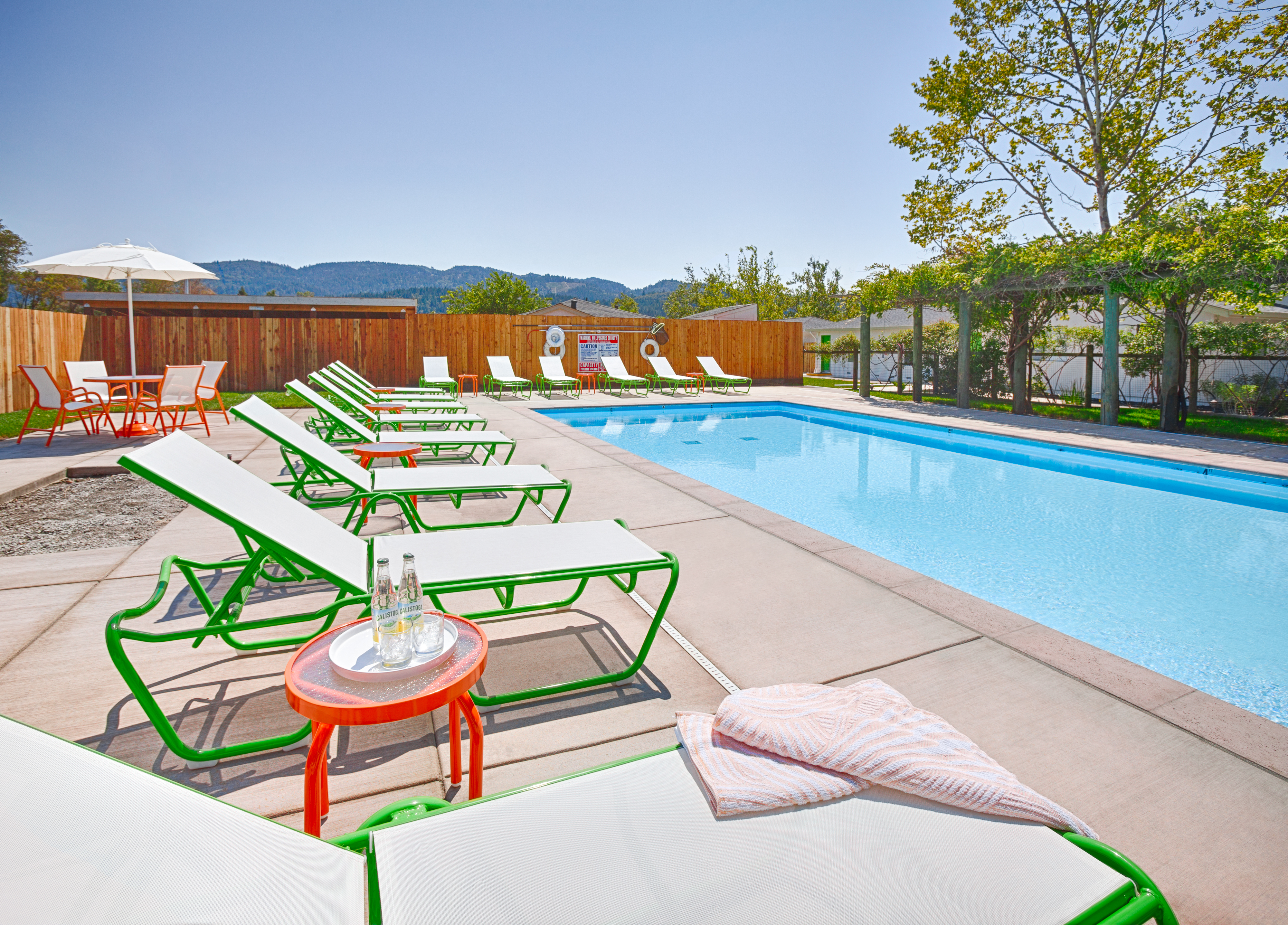 An Outdoor Experience for the Health and Fitness Enthusiast
Calistoga has the most compelling trails in Napa Valley, developed through the region's rich mining history. The Sunburst is situated adjacent to the Oat Hill Mine Trail, regarded as one of the greatest trails not only in the Western United States, but in the world. Built for the production of ore and quicksilver, the Oat Hill Mine Trail has become world-renowned for hiking, mountain biking and equestrian riding, drawing adventurers from all over with its breathtaking landscape and challenging elements.
Touring Calistoga Wine and Olive Oil Offerings
Calistoga, an established American Viticultural Area, is home to prestigious wineries and vineyards such as Chateau Montelena, Araujo Estate Wines, Schramsberg Vineyards, Clos Pegase Winery and Castello di Amorosa. With several wineries and vineyards within walking distance, guests may choose to set out on foot or rent bicycles from The Sunburst for about town exploring. Napa Valley is also regarded for its olive oils, and within Calistoga are award-winning producers such as Calistoga Olive Oil Company, which received a Best in Show Award in the 2014 Napa Valley Olive Oil Competition.
During their stay, all guests receive complimentary passes for the Calistoga Shuttle, a service that transports visitors to various locations within Calistoga city limits. As guests return to the hotel, they may take their new favorite wine with them into the mineral pools.
Accommodations and Guest Experience
Playful and lively with a retro edge, accommodations at The Sunburst are designed for casual comfort. Rooms feature queen- or king-size beds with plush bedding, rainfall shower heads, Keurig coffee makers, mini fridges and complimentary in-room snacks. Wi-fi covering entire hotel grounds is available to guests at no extra cost. A pet-friendly hotel, The Sunburst has designated rooms for pet stays and amenities to include pet beds, welcome treats, a dog-friendly concierge service and privacy sign for pet safety.
During their stay, guests can explore and take advantage of the city's many dining options boasting a variety of cultural cuisines and local flavors. The Sunburst concierge is ready with wonderful recommendations for dining that meet guest expectations and preference.
.
New Midweek Offer
"Calistoga feels like a completely different world from the rest of Napa Valley," says Sunburst General Manager Ryan Gourd. "Known for the hot springs and mud, it's become synonymous with relaxation. The Sunburst provides a casual and approachable experience that is every bit as rewarding as those offered by the Calistoga luxury resorts and spas. It is the perfect getaway for the traveler who wants to disconnect."